BEST LEASE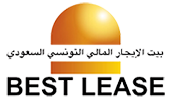 Founded in 1999, Best Lease is the only operator on the market of Islamic leasing in Tunisia. The main sector funded by BEST LEASE is services with a share of 79%, and most of its activity is focused on rolling stock with a share of about 90%.Its capital is held up to 63.18% by the Al Baraka group pioneer of Islamic finance across 13 banks in the world and more than 650 agencies.
If you have an idea, a project and you are seeking funding for your business venture.
Feel free to contact us.